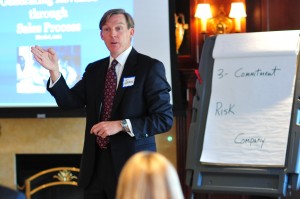 There are a lot of sales training courses out there – seminars, webinars, workshops, audio books, and more. So many, in fact, that it can become hard to tell one from another. And even harder to determine if any of them can really improve your sales performance in a meaningful way.
So, what makes Flannery Sales Systems different?

We're not just another training program.
Training alone does not drive revenue. It's the implementation of that training that yields results. Before we begin training your customer-facing team, we'll work with your sales leaders to define or refine your sales process so there's a clear understanding of how the team will reach its revenue goals. After training, we'll help you implement a reinforcement plan that will solidify process adoption and equip management with critical coaching skills and tools for success.
We're customized.
Everything we do is customized for your organization. We are not a one-size-fits-all methodology that you then need to adapt to your team and selling environment. Our training curriculum is developed specifically for your company. Your sales reps will leave our workshops with the process, tools and skills they need to drive meaningful revenue right away. In addition, we'll work with your management team to define a reinforcement plan critical for ongoing process adoption and continued sales success.
We're about results.
We care about results as much as you do. And because we do, we will help you measure your progress at each stage within your sales process. The end goal is to drive revenue, but what are the individual activities necessary to achieve that goal, and how do you track your improvement over time? We will ensure you have full visibility into your performance at each stage of the sales cycle and a clear understanding of how our services have positively impacted your bottom line.
https://www.drive-revenue.com/wp-content/uploads/2017/04/flannery_logo_color.png
0
0
John Flannery
https://www.drive-revenue.com/wp-content/uploads/2017/04/flannery_logo_color.png
John Flannery
2014-06-03 10:00:34
2014-06-03 17:00:33
Why Flannery Sales Systems?