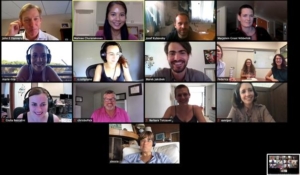 In this new environment, our customers are conducting virtual sessions, and we rely on our deep experience in the virtual world to provide an informative, interactive and rewarding "cyber" experience.
We have fine-tuned a custom virtual event platform that goes above and beyond the rest. You will maximize learning opportunities through group break out discussions, private and public chat features and a one-on-one Coaching experience in the virtual sessions to simulate live conversations in the field.
Additionally, our Online Learning Portal , launched 6 years ago, has helped hundreds of our customers' salespeople to reinforce the learning from the Workshop.
There's no doubt that sales training is an investment; but, when done right, it's one of the smartest investments your company can make. Small improvements in selling techniques can make a huge impact on revenue. What would it mean to your sales results if your average reps were producing as well as your top performers?
We have over 15 years of experience training sales teams, which means equipping them with the skills and tools they need to achieve sales goals. We are different from other training organizations because we don't teach a one-size-fits-all course. Our curriculum is customized to your unique sales process and selling environment. Your reps will leave our course having learned and practiced the techniques they need to successfully engage with prospective customers to drive revenue.