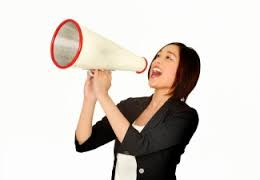 Communication skills are the key to being successful in sales.  They serve two important purposes.  First, they help you understand the prospect's business objectives.  Second, by focusing the conversation on the prospect, you are able to build a high level of trust and minimize the perception of self-interest.
Communication is a two-way street.  That is, it involves both speaking and listening.  Salespeople must have the skills to keep the focus on the prospect, to keep the prospect talking, to be a good listener and build a trusting relationship with the prospect.  After all, your job is to get information, not give it.  How else can you diagnose the prospect's challenges effectively?  If the diagnosis is flawed, how much confidence will your prospect have in the solution?
When you are talking you are saying something that you already know.  When you listen you discover something that someone else knows.  Many attempts to communicate are nullified by saying too much.
If you want to interact with someone, communication is essential.  If you want to influence or advise someone, understanding his or her point of view is critical.  A good rule of thumb is to keep your prospect speaking twice as much as you do.  After all, you have two ears and one mouth and you should use them in that ratio in professional selling.  Unfortunately, most salespeople are like alligators – all mouth and no ears.
In diagnosing the prospect's challenges, and establishing their business objectives during a sales meeting, it is important to ask good questions, take notes and follow up. Taking notes really shows the customer that you are paying attention to what their needs are. At the end of the meeting:
Verbally summarize what you heard at the end of a sales meeting
Discuss what the next steps should be including time and date for the next discussion
Follow up by sending an email to the prospect outlining what was said during the meeting and what the next steps are
These simple tips, when followed on a regular basis, will help you to differentiate yourself by the way that you sell, and move you into the master communicator category.
https://www.drive-revenue.com/wp-content/uploads/2017/04/flannery_logo_color.png
0
0
John Flannery
https://www.drive-revenue.com/wp-content/uploads/2017/04/flannery_logo_color.png
John Flannery
2015-03-12 10:00:17
2015-03-11 23:20:20
Becoming A Master Communicator