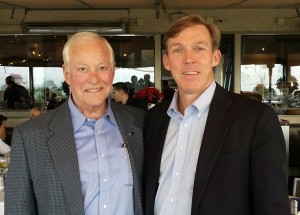 On my way to have lunch with Brian Tracy, I took a moment to consider the conversation that would unfold. On one hand, I was about to sit down with one of the best known speaker-author-entrepreneurs in the world when it comes to optimizing human and organizational performance and results. On the other hand, it was also just a chance to sit down with a neighbor and friend whom I have known for over seven years.
Perspective

In the slim chance that you don't know who Brian is, hit this link to learn more: http://www.briantracy.com/about. In short, Brian has worked in 80 countries and delivered his programs to over 5,000,000 million people in a 45 year career. He has authored 65 books that have been translated into many languages.
It was refreshing to hear Brian say that when it comes to sales, customer and buyer behavior is the same 80% of the time anywhere that he has worked or traveled. What is different, is the 20% of the equation that is attributed to cultural adaptation, languages and localization as buyers reflect the nuances of the areas in which they live.
Creating and Connecting the Dots
In our conversation, Brian referenced the speech that Steve Jobs delivered at the Stanford Commencement in 2005, saying that the key to success in business or in life is connecting the dots. The dots are the true opportunities that you pursue in your life, sometimes those that are off the beaten path of what "success" looks like. But before you connect the dots, you must be continually creating dots.

In that capacity, Brian is currently focused on a strategic planning program for organizations and individuals that he calls Idealization. This program takes into consideration all of the critical components that organizations and individuals must balance to account for family, careers, health and finances.
He is also working with business leaders throughout the world on Business Model Innovation, and has developed a nine-step process on how to stay ahead in business. The speed at which new technology is being introduced, coupled with the rapid globalization of commerce, both contribute to the demise of business models more quickly than ever before. To stay ahead, business leaders must innovate and Brian is addressing this need with his services.
https://www.drive-revenue.com/wp-content/uploads/2017/04/flannery_logo_color.png
0
0
John Flannery
https://www.drive-revenue.com/wp-content/uploads/2017/04/flannery_logo_color.png
John Flannery
2015-01-15 18:56:49
2015-01-15 18:56:49
Creating and Connecting the Dots with Brian Tracy