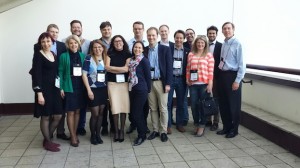 On April 24 and 25, I attended and delivered a Sales Process Workshop at the European Language Industry Association (ELIA) Conference in Riga, Latvia. ELIA is an international organization of professionals in the translation and location industry, bringing multi-lingual content to the world through the web, printed materials and simultaneous interpretations. There were 36 countries represented at the conference, which always makes for great conversation at the event and at cocktail parties and dinners. Here is a summary of the main topics discussed:
Closing the Digital Divide: Facebook Gives Back
The keynote speaker was Iris Oriss, who is in charge of all Internationalization and Translation efforts for Facebook's multi-lingual platform. Iris's keynote focused on Facebook's dedication to closing the global digital divide, as only 2.7 of the 7 billion people worldwide have access to the Internet.  To close this gap, Facebook is supporting an effort called Internet.org, a consortium of companies who donate time and resources to get the web to the most remote reaches of our population.
The resource-based economy that we grew up with has now been replaced by a knowledge-based environment, and as knowledge spreads to a greater segment of our global population, how will your selling style adapt? Does this open new markets for you? Or perhaps increase the number of competitors in your space? Be prepared to answer the question and react quickly – it is happening now.
"The Who" Said It 1971: "Going Mobile" is the Direction
Pete Townsend and Roger Daltrey were prophetic when they wrote and sang the song "Going Mobile" in 1971. Mobile devices have become the desktops of the 80's. Do you recall the first desktop computer that you had? I felt like I was in the space age. Well today, mobile devices offer us more capabilities than ever before. As a result, our buyers are relying more and more on information that is pushed to them while they are on the go.
Mark Zuckerberg re-iterated Facebook's commitment to mobile at the recent F8 Conference in San Francisco, saying the company will run mobile promotions on smartphones and tablets as it pushes to drive revenue (we like that phrase/ URL!) from a larger audience. So, as sellers, we must be ready to leverage mobile to deliver key insights and solutions. According to Robert Peck, an industry analyst at SunTrust Robinson Humphrey, this market may be worth $3 billion dollars in a few years.
All Customers are Unique (with the Same Challenges and Goals)
The Sales Process Workshop I delivered was attended by 16 professionals representing 7 countries, with at least 10 languages spoken among them (see picture). As you know if you've attended one of my programs, the focus is always on the customer. In this workshop, we worked together to determine the best ways to differentiate yourself by the way you sell.
Customers usually claim that they, or their customers/markets, are unique. In our workshop, we determined that business objectives and challenges are actually very similar, regardless of industry. What is not the same is the company's culture as organizations represent many different countries and languages, and as sellers we must be prepared to address those nuances as we help companies meet their business objectives and improve their bottom line.
https://www.drive-revenue.com/wp-content/uploads/2017/04/flannery_logo_color.png
0
0
John Flannery
https://www.drive-revenue.com/wp-content/uploads/2017/04/flannery_logo_color.png
John Flannery
2014-05-06 19:29:31
2014-05-06 19:29:31
A Global Perspective from European Leaders: The ELIA Conference Recap