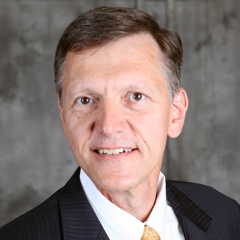 Our new feature article, "Ask a Sales Leader" is designed to provide perspectives from the Sales Leaders that we have worked with and how they have used sales processes to win more business. We asked four questions below to capture this insight. In this edition, we feature Kevin Leak. Kevin is a two time customer of FSS, a 30+ year veteran in the Life Sciences/Pharmaceutical market and has lead teams in Sales, Product Management and Marketing capacities. To learn more above Kevin's success click here.
1. Describe how your customer facing teams use your organization's sales process.
They work together during opportunity development by asking a series of questions and listening to the customer, in order to identify and fully understand the root causes of the customer's problem. In conjunction with Sales, the Product Engineering team has a check list of ways we could resolve the customer's problem and deliver value through the four drivers of Speed, Cost, Quality and Innovation. Can our solution perform faster, thereby improving the customer's efficiency? Can our solution help the customer lower their total costs? Can our solution help the customer improve the quality of their products and processes? How can our solution deliver innovation that creates a competitive advantage?
2. What is your Management's approach to coaching sales reps?
The two key areas of coaching that we focus on are (1) opportunity development and (2) listening skills. Opportunity development coaching is the process we follow for identifying the critical factors that are required in refining an initially vague and undefined opportunity into a very specific and well defined opportunity that lists the decision makers, the timing, the value and the likelihood that we will be selected. Listening skills coaching is the process we follow for identifying, in the pre-call planning, the list of questions the sale rep should be asking, improving their ability to weave those important questions into the conversation with the customer and their ability during the post-call report (Meeting Summary) to show progress in our understanding of the customer's situation.
3. How do you reinforce sales skill development for sales reps?
Repetition is the key. They must buy-in to our sales process that is repeatable and reproducible. The analogy I use to describe "repeatable" is that our sales process is a play book and everyone on our team has agreed that these are our plays, knows how to execute the plays and when we call those plays, everyone knows their role so that we professionally execute those plays. The analogy I use to describe reproducible is that our team plays at many venues (our different customers) with varied situational challenges (such as different competitors) and we sometimes need to bring in customized resources. When we execute our "plays", based on the consistent use of our sales process, we successfully generate the consistent sales, margins and long term customer relationships that we are playing for.
4. What advice would you give to other sales leaders?
Break the "check the box" trap that many experienced sales reps fall into. Sales reps have their list of customers that they like and who like them in return. If the sales rep could, they would spend all of their time calling upon those "nice customers" and "check the box" each week when completing their sales call report. But frequently, they are not learning anything new that identifies new business opportunities or new influencers and decision makers, competitive threats or changes the customer is undergoing that could effect, for better or worse, our sales revenue with that customer. Challenge your sales reps to call upon the tough customers and learn something new about those customers.
https://www.drive-revenue.com/wp-content/uploads/2017/04/flannery_logo_color.png
0
0
John Flannery
https://www.drive-revenue.com/wp-content/uploads/2017/04/flannery_logo_color.png
John Flannery
2015-02-24 00:00:22
2015-02-24 00:02:39
Ask A Sales Leader: Perspectives from the Front