Sales Industry Insights Delivered Straight to Your Inbox
It's easy to get carried away with your daily routine and also easy to put learning on the backburner. With our monthly newsletter, we help you actively stay up-to-date on trends and topics, making sure you're always gathering fresh ideas and stay in-the-know to sales processes.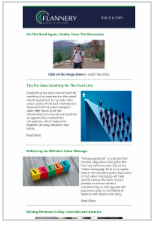 Tips  in each issue:
Business strategy advice
Sales department best practices
Actionable ideas you can implement immediately
Latest sales topics and trends
Tips to increase sales productivity
Sign-up for our monthly newsletter to receive sales tips  from experts at Flannery Sales Systems. You can check out current and past blogs here!