What Makes a Team Great? Torrey Pines High School Girls Nat'l Champions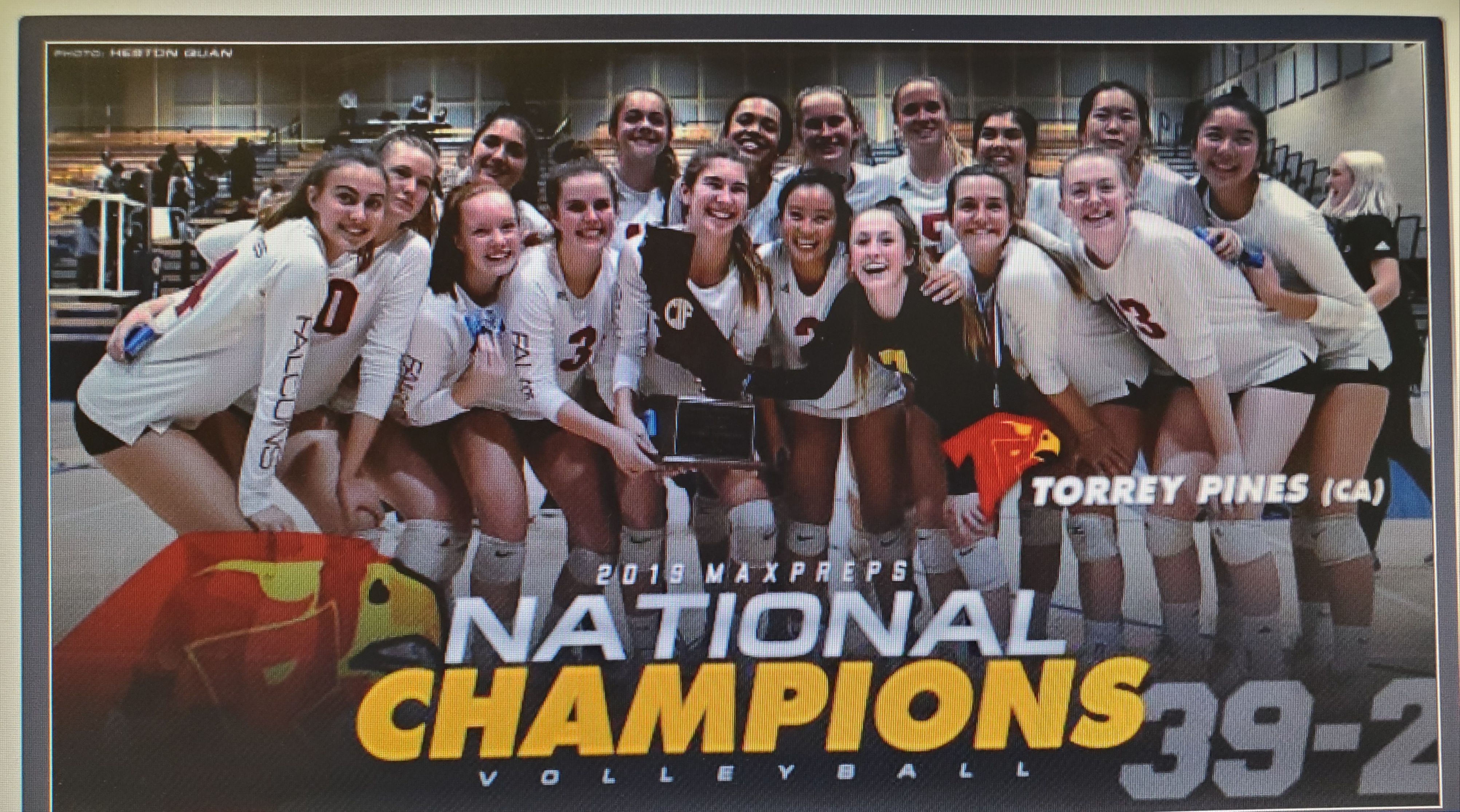 About 45 minutes after the Torrey Pines High School (TPHS, San Diego, CA) Girls Volleyball team beat Marin Catholic for the California State Title (CIF), the squad walked back into the lobby of the college gym where the match was held. The families of the players, including my wife and me, were waiting there to greet the girls following their straight sets victory on November 23. Shortly after their entrance, the tears of joy began to flow from players, Coaches and parents, as the energy in that foyer was so positive, loving, fulfilling and FUN!
The hugs, high fives, pictures with the CIF State Champs trophy went on for a while. And then, the dancing began: LINK
As a Sophomore on the Varsity team, our daughter Hannah was treated well by everyone (see #3 below), got court time in some matches and played against the best in the country during their team practices. She, as did the other underclasswomen, learned a lot about the sport, but most importantly about what it means to be on a TEAM. A life lesson for being a part of a school, family, community, sports team and while giving back.
TPHS Girls Volleyball TEAM is, as the father of an opponent said who we beat a week earlier, a "well-oiled machine". And there is no coincidence/luck around how the girls did it. They did what great TEAMS do, to include the following:
Worked Hard: yes, they do have 7 girls who will play Division One College volleyball, but that didn't stop them from laying it all out in practice and in matches. Yes, we all have to practice.
Skills Focused: Hannah said her Coach told them whoever serves, passes and plays the best defense will win. They did, and they did. Never mentioned hitting or setting? 
Leader Led without Egos: 5 Seniors in the starting 6, and 2 others on roster set the tone. It is about TEAM, not individuals. 3 Ivy League bound players were treated the same as the Sophomores…. no hierarchy. 
Mindset & Belief: they knew they were excellent, took nothing for granted (as written on the back of their practice jerseys) and believed in themselves 
Stick Together: high or low, on a hot streak or fighting to come back, they never wavered in their unity 
Have Fun: they danced before and after matches, went to lunches together without Coaches, and spent time off the court hanging out. They like and trust each other, and it shows. 
As the cherry on top to a great season, a few days after the State Championship, three (out of four) of the top volleyball ranking organizations named them the Number One team in the country. Wow, it just was so wonderful, and has been a source of pride in their school and our community.
In the end, it's not necessarily about volleyball, or any sport. It is how we behave in the organizations that are part of our life. And this shining example is one that Hannah and her teammates will carry for the rest of their lives, on and off the court. Congratulations girls, we love you!
https://www.drive-revenue.com/wp-content/uploads/2017/04/flannery_logo_color.png
0
0
Malinee
https://www.drive-revenue.com/wp-content/uploads/2017/04/flannery_logo_color.png
Malinee
2019-12-10 12:22:40
2019-12-12 10:58:53
What Makes a Team Great? Torrey Pines High School Girls Nat'l Champions