Gold Medal Performances in Sport, Business, and Friendship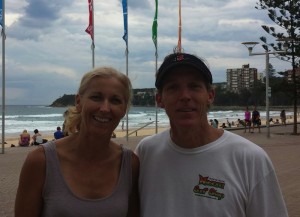 This return trip to Australia has allowed my family and me to rekindle 20 year old friendships and establish wonderful new connections. Last evening was no exception, as we had the pleasure of meeting again with my friend Kerri Pottharst, her husband Max, and son, Tyson.
After blowing her knee out playing professional indoor volleyball in Italy in the early 90's, Kerri Pottharst ended her "hardwood" career, moving to the sand, for less pounding on her joints.   She overcame great adversity to win a Gold Medal in Beach Volleyball, at the 2000 Olympic Games, in her hometown of Sydney.
I met Kerri playing volleyball on Bondi Beach in 1992, and although we were on the same beach, her level of the play and mine were miles (or kilometers) apart.  My amateur status was not anywhere near her acumen, but a common bond was formed through another good friend, Margo Malowney.  Margo also played in the Beach Volleyball Olympics in Atlanta in 1996, representing Canada.  The three of us met in Sydney in '92 and have remained friends since, over miles, oceans and hemispheres.
Both Margo and Kerri have gone on to successful careers in business, which is no surprise, based on their dedication to the hard work that it takes to get to peak performance.  Kerri is a motivational speaker based out of Sydney (www.kerripottharst.com) helping companies set their vision for success. Margo is currently the Vice President of Marketing for an environmental restoration firm in Toronto.
Back in 1992, upon my arrival in Australia, I knew ONE person.  To look back on my 3 visits here, my gratitude abounds for the lifelong friendships established through a wonderful sport, in a beautiful part of the world.  The best to you and yours, Kerri and Margo, until we met again.  Cheers, mates!
https://www.drive-revenue.com/wp-content/uploads/2017/04/flannery_logo_color.png
0
0
John Flannery
https://www.drive-revenue.com/wp-content/uploads/2017/04/flannery_logo_color.png
John Flannery
2014-02-27 04:07:30
2014-03-20 05:23:39
Gold Medal Performances in Sport, Business, and Friendship